Discover more from The Process
Quality documentary filmmaking requires a shitload of R&D. This publication is a window into that work with a view to creating high-production value feature films.
Over 8,000 subscribers
I'm in the UK for The Reformers IRL premiere, and it's clear that London is awash with Overton-adjacent activity. Every day I wake up to invitations to public events and private meetings with heterodox thinkers, cross-pollinating ideas and making plans. It's a welcomed change from my isolated antipodean existence over the past few years with its stifled media environment.
Shortly after I released the trailer for The Reformers, I got a call from Freddy Sayers and Flo Read, who wanted to set up a screening at Unherd HQ. They said that Peter Boghossian was planning a trip to London and it presented an opportunity for them to host their first film screening and Q&A with a director and subject.
They appear to be expanding their small and ballsy media platform into a physical hub for free thinkers. They've recently expanded their offices to include a bar and restaurant in Westminster, complete with an events space where they regularly host live discussions.
They're a tenacious publication with an editorial perspective that aligns well with my own interests, and I was eager to set up a live screening so I enthusiastically accepted the offer.
I met Peter and his son at the ground-level restaurant before Flo glided in to say hi and show us around the venue. Flo, the redhead pictured above, is a producer and presenter for Unherd and was tasked with running the night. She has a charmingly acerbic manner and a self-described "masculine assertiveness," that gave me the impression we were in good hands.
I knew the venue was small and not equipped for screening films, so my expectations were low, but I was pleasantly surprised by their set-up. They had a large LCD screen and surround sound system, and the room was tight enough so that the audience's energy doesn't leak into empty space.
Andrew Doyle, an English satirist and hobby hoaxer was one of the first to arrive. When he mentioned that John Cleese was on his way I had to ask him to repeat what he'd said because the words didn't quite compute. Other familiar faces began to stride up the stairwell: the original academic hoax artist himself, Alan Sokal; the founder of Ralston College, Stephen Blackwood; Triggernometry's Francis Foster; Jonathan Pageau of the Symbolic World; and Winston Marshall, a former member of the band Mumford and Sons who has emerged as an unlikely figure in the London heterodox scene.
We showed the first two episodes, paused for questions, and then played the last two before ending with another discussion. Keep an eye on Unherd's YouTube channel if you'd like to see some video from the event, I'm told they'll upload segments from our discussion soon.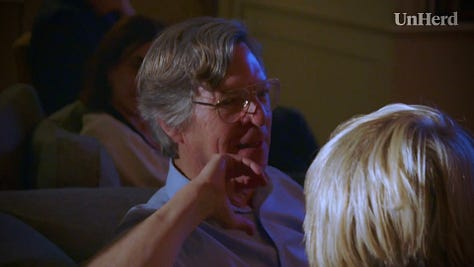 I knew people would enjoy the absurdity of the papers and quirky character moments, but the amount of laughter took me by surprise. There were big laughs from start to finish, and even giggles in places I hadn't previously seen humour. I think the intimate setting and the anti-woke sentiment in the room compounded the audience's emotional response, but I was chuffed either way. Hearing Cleese's distinctive cackle behind me throughout the film was something special.
Afterward, I spoke with a writer from New Zealand and a South African-born film executive who had both experienced a kind of cancellation from their professions for falling afoul of the identitarian orthodoxy. I won't divulge the private details of what happened to them, but even though they both presented with a stiff upper lip, it was clear they had been deeply affected by the experience. I think the film appealed to them on a personal level and may have even facilitated a little catharsis - a bit of a "f*** you!" to the rainbow blob that tried to consume their careers.
In other news, I'm interested in learning more about the post-liberal right. I've been monitoring a vibrant post-liberal counterculture growing on the open web, and I'm interested to see if a viable political movement will emerge from it.
Simplifying to the extreme, the post-liberals proceed from a belief that Western institutions are already dominated by an illiberal orthodoxy. In response, they're exploring forms of politics that depart from classical liberal values such as limited government, individualism, and free markets. They emphasise cultural preservation and communitarian approaches to governance, and they're not shy about using state power to bring New Left fundamentalism, or "Wokeness", to heel. Their comfort with centralising power to achieve their ends is stirring fear of a nascent neo-fascism, and all this strikes me as fertile ground for a new film.
I've set up a meeting with Eric Kaufmann, a conservative professor of politics, to harvest his thoughts on the post-liberals.
I met Eric at a dinner party hosted by Winston Marshall here in London, and we had a fascinating conversation that touched on the topic. He's been writing about the post-liberals and has been rubbing shoulders with some of the key figures, so I asked him if we could continue our discussion on camera to share with you here.
Expect more on this in the coming weeks.
The Process is a reader-fuelled publication. To support my work, please share my posts with friends or consider becoming a paid subscriber.